Congratulations on finding the love of your life and the perfect pear-shaped engagement ring! Now that you have the symbol of your commitment, it's time to choose a wedding band that complements and enhances the beauty of your pear-shaped ring. In this guide, we'll explore various options and tips to help you find the perfect wedding band for your unique and stunning pear-shaped engagement ring.
  Understanding Your Pear-Shaped Ring:
  Pear-shaped engagement rings are known for their timeless elegance and distinct shape, which combines the classic round cut with a tapered point. The teardrop shape creates a stunning and elongated appearance on the finger. When selecting a wedding band, it's essential to consider the design, setting, and overall aesthetic of your pear-shaped ring.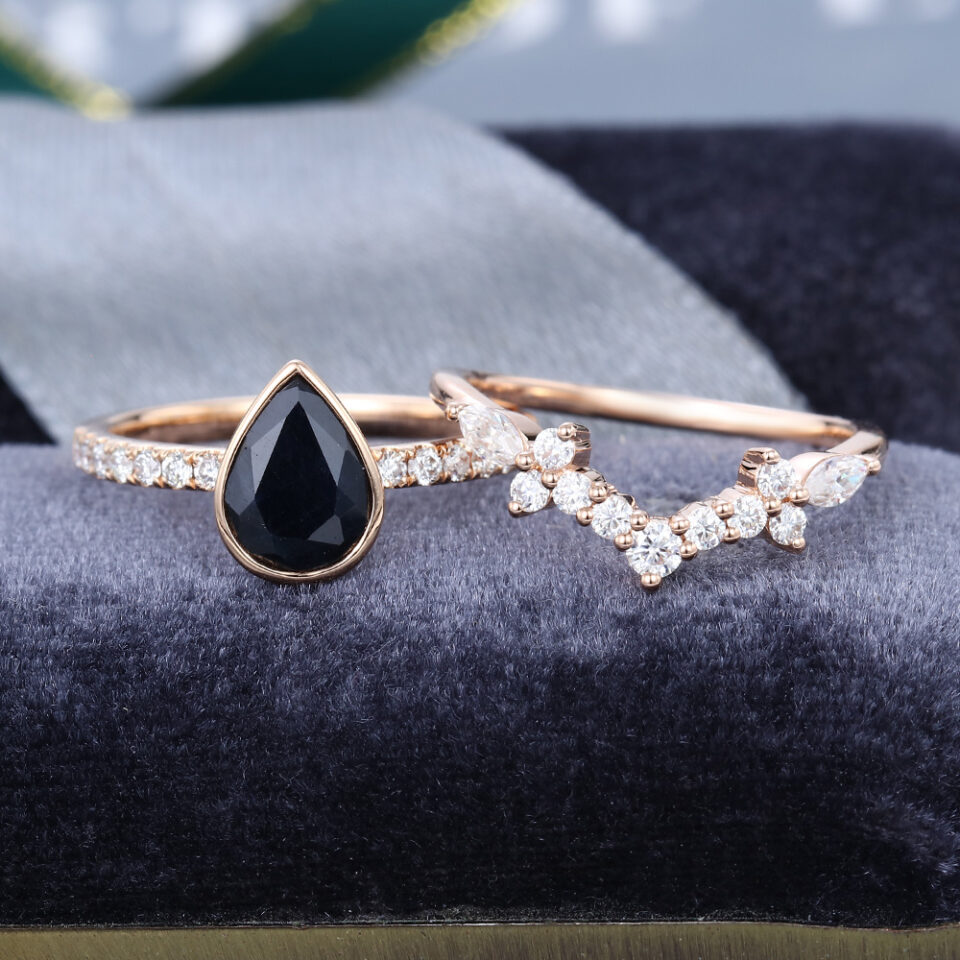 Complementary Styles:
  Curved Bands: Opting for a curved wedding band that follows the contour of your pear-shaped ring can create a seamless and harmonious look. This style enhances the overall appearance of your ring, creating a fluid and cohesive design.
  Vintage-inspired Bands: Pear-shaped rings often evoke a sense of vintage charm. Choosing a wedding band with intricate details, such as milgrain or filigree, can enhance the romantic and timeless appeal of your bridal set.
  Split Shank Bands: A split shank wedding band can be a striking choice for a pear-shaped ring. This style adds a modern twist while complementing the unique shape of your engagement ring.
  Metal Choices:
  Consider the metal of both your engagement ring and wedding band to ensure a cohesive look. Common choices include:
  White Gold or Platinum: These metals provide a classic and sophisticated look, enhancing the brilliance of your pear-shaped diamond.
  Rose Gold: For a romantic and trendy feel, consider a rose gold wedding band. The warm tones beautifully complement the feminine shape of a pear-cut diamond.
  Yellow Gold: A timeless choice, yellow gold adds a traditional and luxurious touch to your bridal set.
  Many jewelers offer customization options to create a truly unique wedding band that complements your pear-shaped ring. Consider incorporating meaningful elements, such as engraved messages, birthstones, or additional diamonds, to make your wedding band even more special.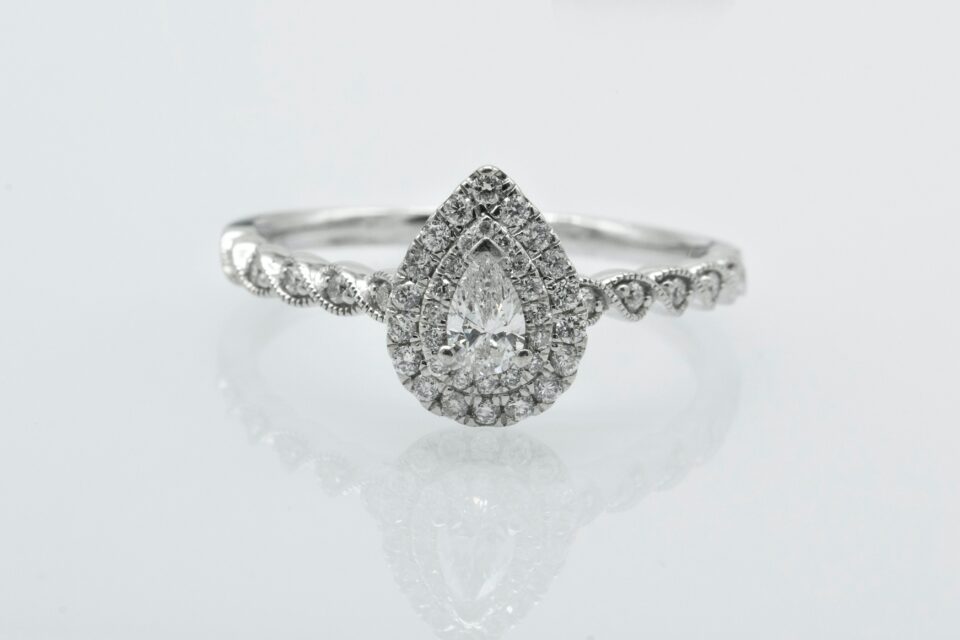 Practical Considerations:
  Comfort Fit: Since you'll be wearing your wedding band daily, choosing a comfort-fit band ensures maximum comfort throughout the day.
  Durability: Pear-shaped diamonds have a pointed end, making them slightly more vulnerable to damage. Select a wedding band that protects the delicate tip of your engagement ring while providing durability for everyday wear.
  Finding the perfect wedding band for your pear-shaped engagement ring is an exciting journey that allows you to personalize your bridal set. Consider the unique features of your ring, explore complementary styles and metals, and don't hesitate to explore custom options for a one-of-a-kind piece that symbolizes your everlasting love. With careful consideration and a touch of personalization, your wedding band will be the perfect complement to your stunning pear-shaped engagement ring.