Choosing a curved wedding ring is an important decision,as it should complement your engagement ring,fit comfortably,and align with your personal style.Here are some steps to help you choose the right curved wedding ring:
  The first and most crucial factor in choosing a curved ring is the design of your engagement ring.Take a close look at its shape,setting,and any unique features.The curved ring should be designed to match or contour to the shape of your engagement ring.
  Consider the metal and material of the curved ring.It should match the metal of your engagement ring for a cohesive look.Common options include white gold,yellow gold,rose gold,platinum,and silver.You may also want to think about any gemstones or additional features you want on the curved ring.
  The width and thickness of the curved wedding ring should be chosen to complement your engagement ring.It should be wide enough to create a balanced look but not too wide that it overwhelms your finger.
  Think about the design and style of the curved ring.It can be simple and understated or feature intricate details like diamonds or other gemstones.The style should reflect your personal taste and complement the design of your engagement ring.
  A well-fitting ring is essential.Ensure that the curved wedding ring is comfortable and sits flush against your engagement ring without any gaps.Try it on to ensure a comfortable fit,and consider having it custom-made if needed.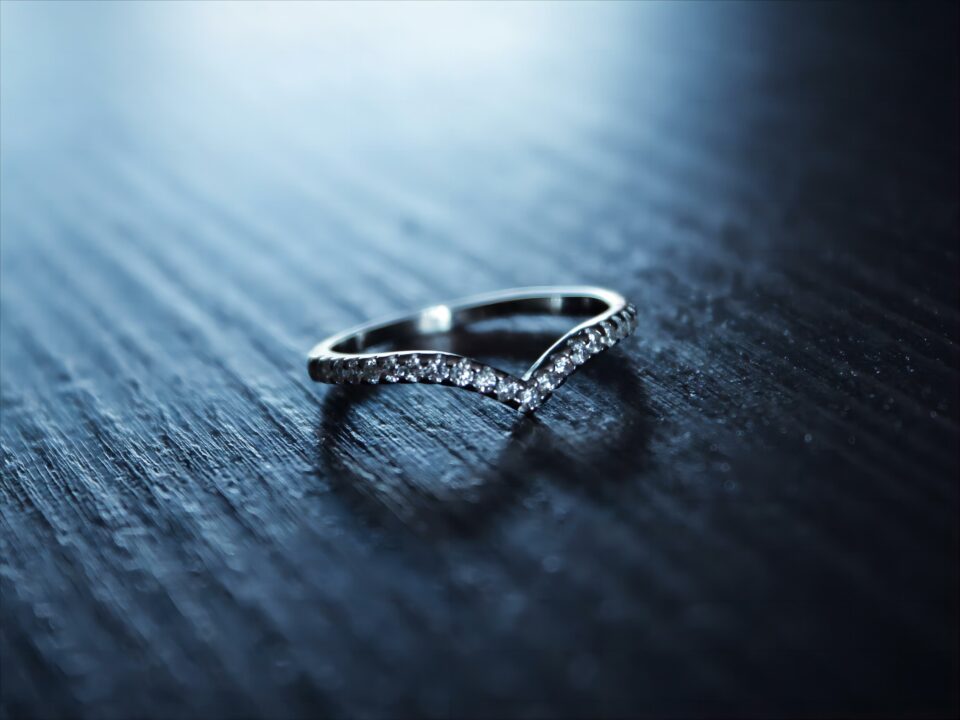 Determine your budget for the curved wedding ring.Prices can vary depending on the metal,design,and any gemstones.Set a budget that works for you and explore options within that range.
  If you have a unique engagement ring or specific design preferences,you may want to consider custom-made curved rings.A skilled jeweler can create a ring tailored to your exact specifications.
  Choose a reputable jeweler with experience in creating custom curved wedding rings.They can provide guidance,show you a variety of options,and help you make an informed decision.
  Wearability and Lifestyle:
  Consider your lifestyle and how the ring will fit into it.If you have an active lifestyle,you may want a more durable and low-maintenance ring.
  Ask about the maintenance and care requirements for your chosen curved wedding ring.Some metals and designs may require more attention than others.
  Finally,try on the curved ring alongside your engagement ring to ensure they look harmonious and feel comfortable together.
  Remember that choosing a curved wedding ring is a personal decision,and there's no one-size-fits-all approach.Take your time to explore your options,seek expert advice,and select a ring that best suits your style and preferences while enhancing the beauty of your engagement ring.