Adding side stones to an engagement ring involves a few steps and considerations. Here's a general guide on how to do it:
  Decide on the type, shape, size, and color of the side stones you want to incorporate into the ring. Common choices include diamonds, sapphires, emeralds, or other colored gemstones. These should complement the main gemstone and the overall design.
  Determine how you want the side stones to be set in the ring. There are various setting styles, including pave (small stones set closely together), channel (stones set in a row with no metal in between), and prong (stones held in place by metal prongs). The setting style can affect the ring's overall look.
  It's advisable to work with a professional jeweler who specializes in custom or semi-custom ring designs. They can guide you through the process, help you choose the right side stones, and provide expert craftsmanship.
  Collaborate with the jeweler to design the ring, considering the arrangement of the side stones. They will create a CAD (Computer-Aided Design) or a wax model to give you a visual representation of the ring's design before it's made.
  Choose the metal for the ring's band. Common choices are white gold, yellow gold, rose gold, platinum, or a combination of metals. The metal should complement the side stones and the main gemstone.
  Keep in mind that the addition of side stones will affect the cost of the ring. Ensure that your budget accommodates the type and quality of side stones you desire.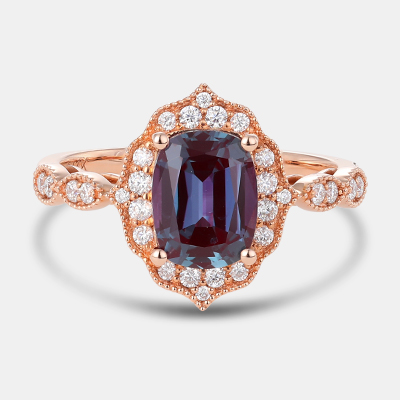 Review the CAD or wax model of the ring to ensure it matches your vision. Make any necessary adjustments before proceeding with the production.
  Once the design is approved, the jeweler will create the engagement ring according to the agreed-upon specifications. This may take some time, so be prepared for a wait.
  Inspect the Final Product:
  Before accepting the ring, carefully inspect it to ensure it meets your expectations. Verify that the side stones are securely set and that the overall craftsmanship is of high quality.
  Once you are satisfied with the ring, it will be presented to you, and you can then use it for your proposal or engagement.
  Remember that working with a reputable jeweler with experience in custom designs is crucial to getting the best results. They can provide expert guidance and ensure the side stones are added to your engagement ring in a way that enhances its beauty and durability.