Cleaning a pavé diamond ring is essential to maintain its sparkle and shine. To clean a pavé diamond ring safely, follow these steps:
  A small bowl
  Warm water
  Mild dish soap
  A soft-bristle toothbrush or a jewelry brush
  A lint-free, soft cloth
  A bowl of clean water for rinsing
  Prepare the Cleaning Solution:
  Fill the small bowl with warm water.
  Add a few drops of mild dish soap to the water. Avoid using harsh or abrasive cleaners.
  Place your pavé diamond ring in the soapy water.
  Let it soak for 15-20 minutes to help loosen any dirt or debris.
  After soaking, use a soft-bristle toothbrush or a jewelry brush to gently scrub the areas around the pavé diamonds. Be sure to clean both the top and bottom of the ring to remove any accumulated dirt or oils.
  Pay extra attention to the areas beneath the diamonds where dirt can accumulate.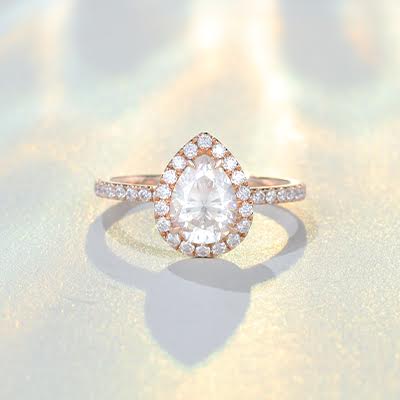 Remove the ring from the soapy water and rinse it under clean, running water. Ensure that no soap residue remains.
  Gently pat the ring dry with a lint-free, soft cloth. Avoid rubbing or applying excessive pressure to prevent damage to the diamonds or the metal.
  If you want to add extra shine, you can use a jewelry polishing cloth to buff the metal of the ring. However, avoid using polishing cloths on the diamonds themselves, as they can be abrasive.
  Clean your pavé diamond ring regularly, especially if it's exposed to substances that can dull its sparkle, such as lotion or hairspray.
  Avoid using ultrasonic cleaners or steam cleaners, as they may loosen the diamonds over time.
  Consider having your pavé ring professionally cleaned by a jeweler at least once a year. They can inspect the settings and ensure that the diamonds are secure.
  It's important to be gentle when cleaning pavé rings to avoid damaging the delicate settings or the diamonds. Regular cleaning and maintenance will help your pavé diamond ring maintain its brilliance and beauty over time.